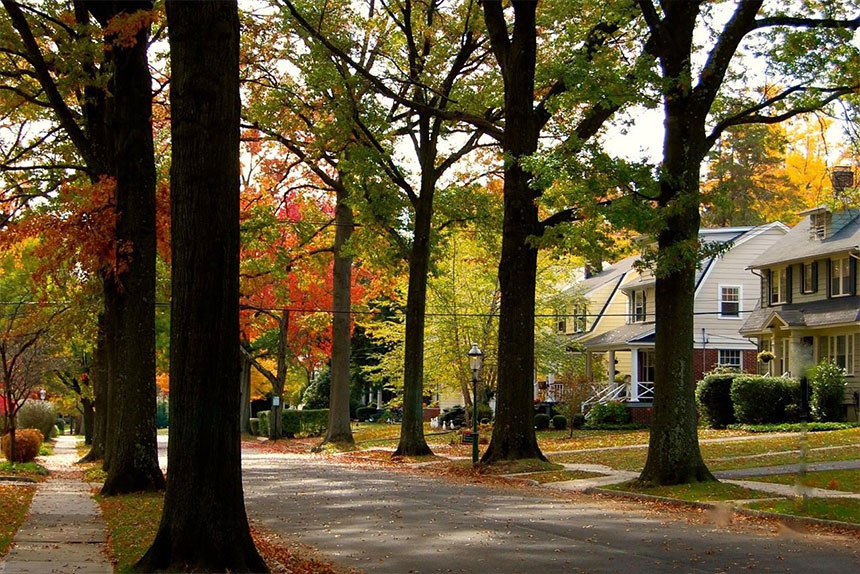 South Orange is a vibrant community with a hip downtown that exudes an urban vibe. Only 30-minutes from NYC's Penn Station, South Orange offers the best of suburban living. Most of the town's picturesque neighborhoods are a short walk from the town center and train station; a jitney serves those neighborhoods that are slightly farther away. South Orange is also home to Seton Hall University. Students can often be found intermingling with residents in restaurants and cafes, which gives the town a youthful and lively tempo. The houses in South Orange are spectacular. Turn-of-the-century Victorians with wide wrap-around porches populate the historic Montrose section, while many mid-century modern homes in the Newstead area have views of the twinkling lights of New York City.
Location

South Orange is located 20 miles west of New York City. Penn Station is just 30-minutes away by train, and Newark Airport is easily accessed in about 15 minutes. Click here to see the map: South Orange NJ

Schools
South Orange schools are part of the highly regarded and richly awarded South Orange-Maplewood School District. Supported by an involved parent organization, a motivated and academically driven faculty, and a diverse student body, the District educates over 6,800 students each year. The student/teacher ratio across the district is 1:10, better than the national 1:11 average. South Orange prides itself on its music education program, which was recently named one of the finest in the country. Click here to see all of the Honors and Achievements for the current school year.
Columbia High School – Grades 9-12
High School students in both South Orange and Maplewood attend Columbia High School which is a nationally recognized, progressive high school with a reputation for academic excellence. Approximately 1850 students are offered more than 20 AP courses, a wide array of elective courses including computer technology, filmmaking, television production, journalism, robotics. In addition, there are 50 extracurricular clubs and activities, 27 different sports offered, and 51 athletic teams. It is here that Ultimate Frisbee was invented in 1967. Columbia High School students are routinely recognized as National Merit Scholar Semifinalists, Commended Scholars, and National Achievement Scholar Semifinalists. Graduates attend an impressive roster of highly acclaimed 4-year colleges such as Harvard, Princeton, Yale, Brown, Dartmouth, Stanford, Boston College, Georgetown, MIT, Howard, Johns Hopkins, University of Virginia and more. The Columbia High School mascot is the Cougars and its colors are Black and Red.
South Orange Middle School – Grades 6-8
South Orange Middle School, grades six through eight, guides pupils academically and socially through the middle years and prepares them for the transition to high school. In addition to their well-structured academic foundation, middle school students also have access to character-building programs, arts education, and community activities. With the help of a team of dedicated teachers and guidance counselors, South Orange Middle School students learn to become lifelong critical thinkers, problem solvers and responsible citizens.
South Orange Elementary Schools

Students in grades kindergarten through five study English language arts, mathematics, science and social studies as their core academic subjects. Students also attend weekly related arts classes. Technology plays an important role in elementary education, and the special education services begin with pre-K programs. A strong support program is available for students needing additional assistance, and gifted enrichment programs are available to 4th and 5th graders. More than sixty foreign languages are spoken in the homes of South Orange-Maplewood students and ESL instruction is provided to students who are in need.
Private and Parochial Schools Near South Orange:
For those looking for private or parochial education, the following schools are just a few of the many excellent options near South Orange.
Commute

South Orange has two New Jersey Transit train stations (South Orange station and Mountain station) that provide quick and easy access to New York and/or Hoboken. The train ride to midtown is approximately 32 minutes during the rush hour. Annual parking permits range from $300 to $480 annually depending on the location of the parking lot. Many of the residential neighborhoods are within walking distance of the train station, and there is a much-used jitney service; each trip is $1.
South Orange offers easy access to both I-78 and Route 280. The drive to the city takes about 25-minutes with no traffic, and Newark-Liberty airport is only 15-minutes away.
South Orange Market Stats
Here are the latest market stats for South Orange NJ
South Orange Market Data October 2022*


| ADDRESS | STYLE | RMS | BRS | BTH | GAR | BSMT | LIST PR | SALE PR | SP:LP | DOM |
| --- | --- | --- | --- | --- | --- | --- | --- | --- | --- | --- |
| 31-41 Church Street | OneFloor | 6 | 2 | 2 | 1 | N | $530,000 | $525,000 | 99% | 52 |
| 123 Roland Avenue | Colonial | 11 | 5 | 2.1 | 1 | Y | $599,000 | $561,000 | 94% | 25 |
| 425 South Ridgewood Road | Colonial | 9 | 4 | 1.1 | 0 | Y | $675,000 | $750,000 | 111% | 8 |
| 511 Melrose Place | CapeCod | 10 | 4 | 3.2 | 2 | Y | $779,000 | $910,000 | 117% | 13 |
| 485 Mayhew Court | Colonial | 10 | 5 | 3.2 | 2 | Y | $829,000 | $829,000 | 100% | 15 |
| 37 South Centre Street | Colonial | 9 | 5 | 2.1 | 2 | Y | $835,000 | $835,000 | 100% | 0 |
| 219 Conway Court | Colonial | 8 | 4 | 2.1 | 1 | Y | $995,000 | $1,100,000 | 111% | 15 |
| 33 Stanley Road | Colonial | 11 | 8 | 2 | 2 | Y | $1,050,000 | $1,075,000 | 102% | 62 |
| 18 Glenside Road | Colonial | 16 | 6 | 3.3 | 2 | Y | $1,189,000 | $1,355,000 | 114% | 8 |
| 75 Whiteoak Drive | Colonial | 14 | 5 | 3.2 | 2 | Y | $1,200,000 | $1,351,000 | 113% | 15 |
| 653 Mountain Drive | RanchExp | 16 | 5 | 4.1 | 2 | Y | $1,250,000 | $1,225,000 | 98% | 46 |
| 500 Grove Terrace | Colonial | 13 | 5 | 3.1 | 2 | Y | $1,400,000 | $1,505,000 | 108% | 22 |
Recreation

The South Orange Recreation Department offers a wide variety of sports and activities to its residents, who may choose from soccer, basketball, baseball, football, lacrosse, field hockey and many more. The town is studded with open green space. The South Mountain Reservation, a 1,500 acre tract of wooded hills and pristine fields adjacent to South Orange, is great for hiking, dog walking, sledding and mountain biking. Floods Hill at Cameron Park in South Orange is a hugely popular sledding destination in the winter and attracts many basketball players to the ever-active Baird Center. There are many pocket parks and playgrounds spread through the towns and people can always be seen biking, walking and running. The South Orange Municipal Pool awaits you on those hot and humid summer days.
On the private level, the famous Orange Lawn Tennis Club, offers 10 har-tru courts, 10 grass courts and 5 paddle tennis courts, as well as a pool and restaurant. For many years Orange Lawn was the home for the Eastern Grass Court Tournament, a precursor to the US Open.
Dining / Arts / Shopping

South Orange offers residents a wide variety of opportunities for entertainment; SOPAC (South Orange Performing Arts Center) is a state-of-the arts performing arts center featuring Singer-Songwriters, Blues, Jazz, Comedy, Theatre, Dance, and multiplex movie theaters, local restaurants feature live music on a regular basis, and cafes and art galleries flourish.. Annual music festivals include the South Mountain Blues Festival and a free summer concert. There is a movie series at Flood's Hill in Meadowlands Park.
Check out Stony's for its secluded and whimsical outdoor garden and burgers, hot dogs, lobster rolls and live music, Ricalton's for excellent new American cuisine and a hopping bar scene, Ariyoshi for the best sushi around, and The Reservoir for classic Italian specialties and pizza. Cait and Abby's Bakery is the perfect stop for freshly baked goods and coffee, and if you prefer Starbucks just mosey a few more feet down the road. Bagels Abroad, Sunny's Bagels and and Tito's Burritos offer casual fare. Finally, the Gaslight Brewery brews its own microbrews; Bunny's Sports Bar has been a fixture on the South Orange dining scene for many years.
South Orange is a hub for cultural activity.. Young musicians hang and learn at Mark Murphy's Music, The Baird Center hosts the Pierro Art Gallery, the Giants in Jazz series, and concerts, performances and theater workshops. Montrose in May celebrates the spectacular Victorian-era homes in the Montrose neighborhood with a walking tour that should not be missed.

Shopping in South Orange is easy and convenient. Ashley Market is the go-to place for gourmet foods and everyday groceries. Kitchen ala Mode supplies the latest kitchen equipment, Sparkhouse Kids carries kids toys, and if you're looking for the coolest, most fashionable sneakers, don't miss CMB Kicks. The convenience of getting one's errands done without leaving town cannot be overestimated.
History

First inhabited in the 1670's, Dutch, French, and English settlers came to South Orange by following three Indian trails that roughly correspond to today's South Orange Avenue, Ridgewood Road, and Springfield Avenue. With the advent of a railroad connection to Newark in the 1830's, development in South Orange began in earnest. By the early part of the 20th century, the town was firmly established as a thriving bedroom community of New York City.
Articles about South Orange, NJ
If you are thinking of living in South Orange – NJ New York Times
New York Times Maplewood/South Orange N.J.: If Brooklyn Were a Suburb – 2014